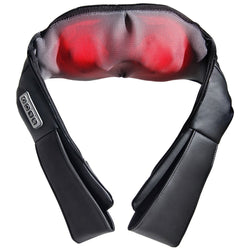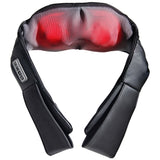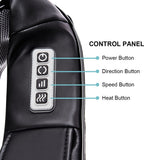 Shiatsu Neck Massager with Heat
Table of Contents
The Relaxe Shiatsu Neck Massager with Heat is much more than a neck massager. If you want to take the relaxing experience to a whole new level and feel like you have a massage therapist at home, you just stumbled upon the best product.
With eight different massage nodes, eight roller balls, three massage speeds, an optional heat setting, and an ergonomic design, this top-selling massager will deliver the best massage therapy session in your home, office, car, and everywhere you go. If you've been dealing with pain in your neck muscles and shoulder muscles, you should take a look at the product details, key features, and description of this device:
Relaxe Shiatsu Neck Massager - Product Description
The actual product packaging is shown in the pictures, so you'll be getting exactly what you see.
Comes in a luxurious black color with a cover that's easy to clean and take care of.
The top side of the massager is covered with a durable, beautiful black PU leather material that will go against time and won't show any signs of wear and tear.
The bottom part that lies on your body is covered with a black polyester breathable mesh fabric that will let your skin breathe while also delivering soothing heat and a deep massage.
Built-in buttons include an On/Off button, Direction, Speed, and Heat. There's no need for remote control because all the buttons from the control panel are within your reach and a part of the sleek design.
In the package, you'll also receive a car plug that helps you enjoy a soothing massage while driving your car, going to work, on trips, and taking it with you everywhere you go.
Relaxe Shiatsu Neck Massager - Key Features
Ergonomic design: handheld massagers can be such a hassle! Thanks to the innovative ergonomic design of this deep tissue massager, you can just place it on your neck, relax your body and enjoy the soothing massage. It's very much like having a medical professional at home, but at a much lower price. Unlike manual massagers, this one does all the job instead of you; it's lightweight, easy to use, and includes ergonomic features that further help your sore muscles and provide pain relief. The massager is equipped with arm straps on both sides. These aren't adjustable arm straps, but they're very well padded, comfy, and support your arms while your neck and shoulders get the treatment they need.
Three adjustable speeds and massage modes: the device has three-speed levels, so you can easily adjust them whenever you need to. The speed settings are located in the left part of the device via the third button.
Gentle heat option: the adjustable heat option lets you turn on and off the infrared heat using the fourth button from the control panel. Thanks to the advanced massage settings, you can set up an at-home effective massage that will deal with your tired muscles, shoulder pain, neck pain, arm pain, and also target other parts of the body where you'll place it. The infrared heat reaches the deeper tissues, warms up the area, boosts the blood flow, and speeds up the recovery process.
Six massage rollers: rollers can rotate uni or bi-directionally to your liking. The bidirectional rotation imitates the movements of an actual person, so using his massager will feel like a long and relaxing body massage with your favorite masseuse. The massage roller balls are made to target the hard-to-reach muscles, deliver deep kneading for immediate results, and help with muscle tension and pain.
Multi-purpose shiatsu massager: although the name suggests that you should use this device for your neck, it's actually a multi-purpose product made for your entire body. It can relax the tight muscles in your neck, shoulders, back, arms, legs, calves, foot, waist, lumbar area, and any part of the body you can think of.
Excellent for home use: there's no need to pay for expensive massages anymore because we bring the salon to your home. This is the best shiatsu neck massager because it's so effective, equipped with many features, and easy to use at home.
The perfect gift for everyone: if you're ever looking for an excellent, helpful gift for your friends and family, this one is it! Everyone wants a shoulder massager, regardless of their age and gender.
The massager comes with an electric massage pillow, a car plug, a US plug, and a booklet with instructions. Massage pillows can be quite an investment, but you'll get one for free when purchasing this shoulder massager.
Auto shut-off feature: the massager will automatically turn off after 15 minutes of working. This feature will make you feel safer while using it, since the device's recommended time for a deep tissue massage is up to 20 minutes per day.
Portable and easy to carry: in the packaging, you'll receive a 6-foot-long cord that is long enough to move around the house. This also means that you can take this five-star rating massager with you anywhere, including the car. It's also relatively lightweight, which means it's a better alternative than massage chairs, massage guns, and massage rollers.
Relaxe Shiatsu Neck Massager With Heat - Specifications
Product Dimensions: 12" x 8" x 3.5"(L x W x H)
Color: Black
Power Source: electric massager, corded electric
Rated power: 24W
Output voltage: DC12V
Input voltage: AC100-240V 50/60Hz
Cover material: PU leather + polyester mesh
1 x Massage pillow
1 x Car plug
1 x US plug
1 x Instruction
Benefits of Neck Massage
What can you expect to get from neck and shoulder massages? The benefits are quite diverse, so let's see how one of these massagers can improve your life:
Massages boost blood circulation because they cause blood vessels to open up, increasing blood flow in the area. Thanks to the massaging technique, the tense muscles will get more oxygen, and the increased blood flow will take away the metabolic waste for the body to discard.
Helps with muscle pains. The main benefit of massages is dealing with muscle pain, tension, and soreness. Massagers for neck and shoulder pain target the two areas and promote higher quality of life.
Provides stress relief. Tense muscles in the neck, back, and shoulder area can make you feel stressed out and even cause headaches. If you practice getting massages regularly you'll feel instant relief both in terms of pain and lowering your physical stress levels.
Can help you deal with chronic neck pain. If you have a chronic health condition with frequent pains and discomfort in the shoulder, neck, and back areas, getting a massage frequently can help you manage the pain and live a happier life.
Why Buy From Us?
2-5 Day Express® Shipping
2 Year Warranty 

24/7 Customer Service (hello@relaxe.co)

Premium Quality Guaranteed

Not available on Amazon or in stores!

We guarantee that you will absolutely love it
BUY WITH CONFIDENCE
We understand that online shopping can be daunting, and that's fair. We put it upon ourselves to create a special customer experience, from order to shipment to delivery. We offer 24 hour customer support to answer any and all questions. If you have any concerns about shipping or store policy, please visit our Store Policy page to get more details.
We look forward to welcoming you to the Relaxe Family.
NOTE: Unfortunately, we cannot ship to Hawaii, Alaska, or P.O Boxes. Thank you for your understanding!