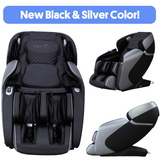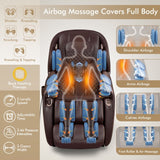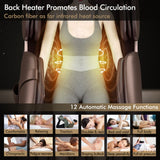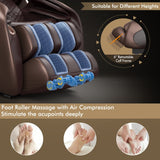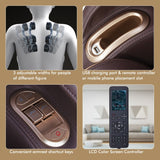 Relaxe Zero-Gravity Shiatsu Massage Chair With Heating (SL-Track)
Our retail price is $9663..
But since we cut out dealers and showrooms, our online price is $5330..
We're having a HUGE Fall Flash Sale 🍁🎃🍂  so..
For the next 24 hours, grab the Relaxe Shiatsu Massage Chair as a special gift for only $2899 — our lowest price of the year! While supplies last.
Experience the deepest full body massage there is with the Relaxe Shiatsu Massage Chair. With additional features such as zero-gravity design, heating, and bluetooth technology, enjoy soothing relief and rid your body of muscle tension and pain.
Save time and money by having this on-demand massage service, from the comfort of your own home!
Relaxe Massage Chair: Quick Overview
Zero Gravity & Heating: One button zero-gravity design, you'll feel virtually weightless. Built in heater for lower back and feet.
Full Customizable Body Massage: 4 Shiatsu back rollers, 28 airbags designed for the shoulders, arms, hips, calves, and feet, lower back heating, and foot roller massage. 12 automatic modes, 5 manual techniques, and full fine-tuning options.
53 inch SL-Track: A full body massage that doesn't just end at your back — feel total relief. We're one of the only massage chairs in the world with a 53 inch SL-Track, priced under $10,000!
Free Shipping & No Installation Required: Massage Chairs are shipped and delivered within 2-5 business days. Our shipping carrier will deliver to your doorstep and the chair works out of the box. Completely hassle-free. 
Affordable Financing: Checkout with Affirm and pay as little as $106/month or pay in 4 installments of only $724.75.
365 Day Trial & 3 Year Warranty: Order risk-free. We're so confident that you will love your chair, we are offering you a full year to try it in the comfort of your own home. Get a full refund less return cost of shipping —  completely hassle free. This is the best guarantee in the entire massage chair industry! 
First, let's take a brief look at the history behind the Shiatsu Massage style, why exactly our massage chair is truly one-of-a-kind.
SHIATSU MASSAGE: AN ANCIENT SECRET
The Shiatsu Massage technique was developed in Ancient Japan in 1320 by Akashi Kan Ichi, which previously evolved from the "Amma Massage" style. The original Shiatsu Massage technique was a closely guarded secret, with generations of knowledge only passed through the most respected Samurai families. 
Often only accessible by the royal and wealthy, a single Shiatsu Massage session by a trained master in the field could cost thousands.
Even today, a highly trained Shiatsu masseuse charges up to $200 per hour for a full body massage. 
So, why is the Shiatsu Massage so popular? 
SHIATSU MASSAGE BENEFITS:
Reduce Muscle Tension:

 Shiatsu Massages are well-known to reduce muscle tension within the body. Typical massage therapy focuses only on muscles, while the Shiatsu style covers joints and fascia (connective tissue). This extra step allows the Shiatsu Massage style to give further relief.

Improved Mobility: Shiatsu Massage techniques serve an important role in increasing mobility throughout the body. The pulsing & vibrational style enhance mobility in key parts of the body such as the back, feet, and legs.
Optimized Blood Circulation:  Shiatsu Massages intentionally focus on the interconnectivity throughout the body. A critical component of this is blood circulation. Through deep kneading and rolling massaging, the Shiatsu Massage opens up the body and enhances blood flow. 
Deeper Sleep: Studies have shown that the Shiatsu Massage style helps the body release serotonin, which is a neurotransmitter which signals the body calm down. Further, serotonin increases melatonin in the body, and helps circadian rhythms to reset. All of these factors lead to a deeper, more refreshing sleep. 
Alleviates Stress & Anxiety: It is documented that Shiatsu Massages help the body relax. As it turns out, massages can help loosen pinched nerves, and cause the body to enter into a state of relaxation. This state results in the body decreasing corticosteroids (a stress hormone), and increasing of "feel-good" hormones like endorphins. 
You'll Feel Like A New Person: All of this to say, the benefits one experiences with a perfect Shiatsu Massage are unparalleled by any other form of massage. Not only will you see the physical benefits of pain relief and increased mobility, you will feel an improvement in mental space through relaxation & and improvement in internal systems within the body. 
ZERO-GRAVITY DESIGN 👇
KEY FEATURES OF RELAXE MASSAGE CHAIR
Deep Shiatsu Massage With Heating: There are 28 total airbags covering the shoulders, arms, calves, and feet to relieve muscle tension and fatigue. Back far-infrared hyperthermia and foot massage roller promote blood circulation. Equipped with automatic detection for shoulder positioning, the massage chair will give you a deep sense of relief that leaves you wanting more. An ergonomic design allows for heat to massage the entire back using kneading and rolling that mimics the hands of an expert masseuse. 
Zero-Gravity Design: Press the "zero-gravity" button to experience a weightless sensation. Float in the clouds (or in space!) with the zero-gravity design, enabling you to feel a soothing massage to your liking, in total comfort. There are 3 angles to choose from.
Target Entire Body: The 53-inch SL track is ergonomically designed to fit the full body curve. Trace your neck down to your thighs to provide a larger massage range and strength. Provides a yoga stretching function to relax and ease full body muscles from daily strains.
Smart Remote Control: The Shiatsu Massage chair arrives with a smart remote control that gives you full customization over your massage. It has a high definition VFD display screen which easy to understand and use.
No Assembly/Installation: Works right out of the box, and comes with a 3 year warranty!
Fully Customizable Massage: There are 12 automatic massage modes, including 5 massage techniques, 5 adjustable speeds, 3 adjustable widths, and 3 adjustable air pressure intensities. Simply use the remote control created with an LCD color display to customize your massage modes.
Bluetooth Audio Play: Bluetooth and TF/USB/Music player is included, so you can enjoy both a blissful massage while listening to peaceful music.
After Sale Guarantee:

 

This massage chair is 100% tested for performance and reliability before shipping, and is guaranteed and protected with a 3-year warranty.
Care-Free Move:

 

Simply unbox and start using, the installation-free design saves your time and energy. Built-in wheels at the bottom make the push and pull for easy movement.
Any Height:

 

Retractable calf frame instantly adapts to people of different heights. Recommended height 4.9 - 6.2 feet and supports up to 330 pounds.
Great For Small Space:

 

This massage chair is built with the consideration of using space-saving technology. The machine is only 2 inches away from the wall to fully operate. The maximum area of the massage chair is 14 square feet after stretching. The modern and stylish design can perfectly fit the living room, home theater, and office.
DETAILED FEATURES 
4 Back Massage Rollers & 28 Airbags
The Zero Gravity Shiatsu Massage Chair is equipped with 8 stationary rollers to provide constant massage stimulation to your back; medically engineered to work out muscle tension and knots.
Dual System - 12 Modes
The Zero Gravity Shiatsu Massage Chair incorporates a synchronized double-massage system, combining Air Bag and Roller massagers, giving you the heavenly sensation of comfort and relief.
Heat Therapy
Two heating pads are placed in the bottom half of the Massage Chair to generate warmth while the lumbar is massaged. Built with premium carbon-fiber material.
Bluetooth enabled
Enjoy your Zero Gravity Shiatsu Massage Chair with your favorite music, powered by built-in bluetooth connectivity. The chair also has 3D surround-sound audio.
Extendable Footrest
The footrest can be extended to accommodate an individual with height up to 6 feet. Every member of the family gets to enjoy comfortable massage of the Zero Gravity Shiatsu Massage Chair.
SPECIFICATIONS
Color

Brown

Material

PP, ABS, iron, PU leather, sponge pad

Overall size

61.5''-69.5'' x 30'' x 33''-44.5'' ( L x W x H)

Net weight

199 lbs

Height & weight capacity

6'4, 330 lbs

Rated voltage

110-120V 60Hz

Rated power Input

120W

Rated time

20 Mins

Package includes

1 x Massage chair
1 x Remote controller
1 x User manual
FREE BONUS: Yoga Course 
As an exclusive gift, you'll also get access to our world-famous pain relief yoga course, for free. 
The course has over 2 hours of content and unlocks the shortcuts to improved blood circulation, energy increase, and pain relief.
Combine these ancient yoga techniques with your massages for the ultimate relief routine!
Order with confidence! Don't love the chair? No problem. Maintain access to the entire yoga course our gift to you just for trying!
How Our Price Is So Low:
The benefits of such a massage style should not just be limited to the wealthy, or exclusive to massage chairs that cost $10,000+. We wanted to find a way to offer this massage style, with all of its benefits, to everyone. 
Traditionally, massage chairs are marked up by several thousand dollars as they are transported from factories to warehouses to showrooms to customers (shipping large items is expensive!) We eliminate the hassle of the showrooms & retail locations, passing on the savings to you. Yes, this is the same quality of a "high-end" Massage Chair that costs upwards of $7,500 anywhere else — for a fraction of the cost.
EASY FINANCING & SECURE PAYMENTS
We don't want to turn any of our customers away from this limited time offer! Select Affirm at checkout for up to 36 month financing, with payments as low as $106/ month.  At checkout, you will see another option to pay with Shop Pay, and which is 4 interest-free installments. All payments are processed through 256 bit encrypted gateways, and we do not store any of your payment information. 
You can checkout via PayPal or Amazon, the world's most secure payment companies. 
HASSLE-FREE SHIPPING & VIP SUPPORT
After you place an order, shipping and installation is a breeze. You'll receive a tracking number in 48-72 hours, and will receive a call from the carrier company to arrange a preferred shipping time. Someone from our VIP concierge team will be available 24/7 if you have any questions over phone, email, or text. The shipping company will bring the box to your door, and all that's left to do is unbox and plugin! No assembly or installation required.  
CUSTOMERS LOVE IT!
Unedited, unfiltered testimonials from REAL customers.. Not actors! Scroll down to the bottom of the page to read written reviews.
Frequently Asked Questions
Why Choose Relaxe?
2-5 Day Free Express® Shipping*
No assembly required
3 Year Warranty 

24/7 VIP Customer Service (hello@relaxe.co)

Offer not available on Amazon or anywhere else
365 Day Trial: Money Back Guarantee
Order risk-free. We understand that online shopping can be daunting, and that's fair. We put it upon ourselves to create a special customer experience, from order to shipment to delivery. We offer 24 hour customer support to answer any and all questions. If you have any concerns about shipping or store policy, please visit our Store Policy page to get more details.
We look forward to welcoming you to the Relaxe Family.