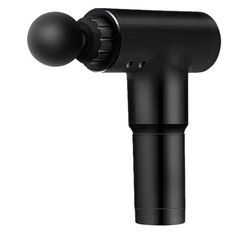 Note: We are running extremely low on stock, due to increase in demand and our low price points. We apologize in advance for the inconvenience. Shipping, like always, is free and 2-5 days.
Give your body the gift of relief with the Massage Gun. Use the tool to give yourself a soothing deep tissue massage with different styles that target key pressure points to relax tense muscles and alleviate muscle strain.  
Get rid of sore muscles and fatigue, instantly!
Massage Gun Key Features
Restore Muscles & Relieve Soreness: Through depth and strong vibration and stimulation, relax the stiff and sore muscles. For athletes, use our massage gun to quickly defeat the lactic acid produced after exercise and accelerate recovery. It is also very suitable for personal use to promote blood circulation and eliminate fatigue.
4 Interchangeable Massage Heads: The hand-held design and 4 different massage heads reach every muscle and provide targeted treatment for each muscle group. Our massage device provides a relaxing massage experience for different body parts such as the neck, back, arms and thighs, speeding up warm-up and recovery.
6 Adjustable Intensity & LED Touch Display: Our massager is available in 6 speed strength levels to meet your wide range of relaxation muscle needs. You can find the optimal pressure by adjusting the speed. And it has LED touch screen control so you can clearly see speed, battery power, and switch control on the control panel.
Powerful Motor & Long Working Time: With a powerful 24V brushless high-torque motor, it provides up to 3,200 percussions per minute. It uses quiet glide technology and is ideal for use at home, office and gym. With 2400mAh rechargeable lithium battery and super heat dissipation function, it can be used for 3 hours after each charge.
Ergonomic and Lightweight Design: The cordless massage gun is very lightweight, so you can take it anywhere. Equipped with a carrying bag makes it easy to carry and store. The soft and comfortable handle is ergonomically designed for easy grip and use, minimizing external vibration and avoiding hand slip.
The Relaxe™ Massage Gun is equipped with four different shaped massage heads to help the user to relax different body parts. The fork massage head is designed for the spine; flat one, for any part of the body; bullet one, for joints; round one, for large muscle group; The user can change the massage gun's speed as needed. The massage head can rotate 1200 times per minute when it is in level one; 2400, in level two; 3200, in level three. 
MASSAGE GUN PRODUCT SPECIFICATIONS

Touch Panel Display (Adjust Speed)
Industry Leading 4 Hour Lithium Battery Life
Matte Leather Handle (Anti-Skid)
4 Different Attachments Included
Dimensions: 18.8"(L) x 24.2"(W) x 6.2"(H) 
Weight: 2.2 LBs.
Travel Friendly, TSA Approved
Input Voltage (110-240v; 30-50HZ)
Charger Included (AC Wall Plug)
No Assembly Required
Why Buy From Us?
2-5 Day Express® Shipping*
2 Year Warranty 

24/7 Customer Service (hello@relaxe.co)

Premium Quality Guaranteed

Not available on Amazon or in stores!

We guarantee that you will absolutely love it!
BUY WITH CONFIDENCE
We understand that online shopping can be daunting, and that's fair. We put it upon ourselves to create a special customer experience, from order to shipment to delivery. We offer 24 hour customer support to answer any and all questions. If you have any concerns about shipping or store policy, please visit our Store Policy page to get more details.
We look forward to welcoming you to the Relaxe Family.
NOTE: Unfortunately, we cannot ship to Hawaii, Alaska, or P.O Boxes. Thank you for your understanding!