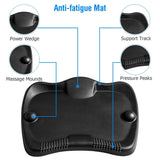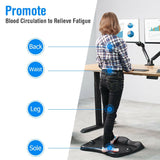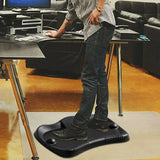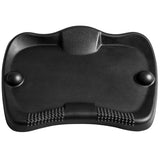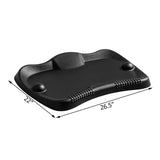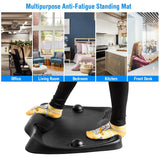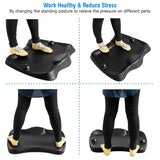 Anti-Fatigue Standing Desk Mat
Relaxe has designed one of the leading anti-fatigue mats for standing desks. Its industry-leading contours and engineered material deliver a unique combination of micro and macro movements that erase the fatigue caused by stationary standing.
Benefits of using the mat include improved posture, decrease fatigue in joints, and increase in energy.
Use it in the office, in the kitchen, or anywhere else where you're required to stand for long periods of time!
KEY FEATURES 
#1 Voted Standing Desk Mat: Relaxe's Anti-Fatigue Standing Desk Mat is one of the first designed for standing desks. Featuring the finest materials, this is a piece of ultimate luxury is a must have for office space or at home use. 
Hack Your Posture: Often thought about as a "secret weapon" towards great posture, the surfaces of the mat promotes subconscious movement, which in turn stretches muscles and also promotes blood circulation throughout the body. This happens without you even noticing — the ultimate hack! 
Ergonomic Design:

 This comfort floor mat combines anti-fatigue theory and balance training. The inclined angle and terrain keeps your body in an active state. By continuing to move, your body has improved blood circulation and improved posture due to standing versus sitting. 

Improvement or Money Back: If our mat does not leave you feeling a newfound sense of energy or relief — no hard feelings. No matter the reason, we offer all of our customers a 100% full-refund satisfaction guarantee and also have a five year warranty. We stand behind the quality of our products, and truly believe in making sure that your experience with us is a positive one. 
SPEFICIATIONS
Color: Black
Net weight: 16 lbs
Size: 26.5" x 22" x 3" (L x W x H)
Material: Rubber + PU + SBR
Package includes:
1 x Comfort floor mat
Why Buy From Relaxe?
2-5 Day Express® Shipping

24/7 Customer Service (hello@relaxe.co)

Premium Quality Guaranteed

Not available on Amazon or in stores!

We guarantee that you will absolutely love it!
BUY WITH CONFIDENCE
We understand that online shopping can be daunting, and that's fair. We put it upon ourselves to create a special customer experience, from order to shipment to delivery. We offer 24 hour customer support to answer any and all questions. If you have any concerns about shipping or store policy, please visit our Store Policy page to get more details.
We look forward to welcoming you to the Relaxe Family.
NOTE: Unfortunately, we cannot ship to Hawaii, Alaska, or P.O Boxes. Thank you for your understanding!