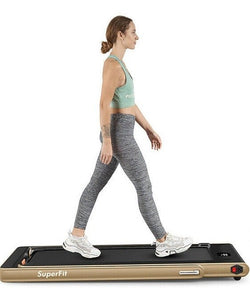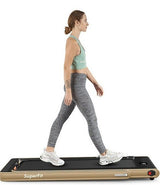 2-in-1 Folding Treadmill with Bluetooth Speaker
Table of Contents
Note: We are running extremely low on stock, due to increase in demand and our low price points. We apologize in advance for the inconvenience. 
This Foldable Treadmill with Bluetooth Speakers is all you need to reach your fitness goals! You can transform it from a desk treadmill into an electric running machine within seconds and perform interactive workouts at home, in the office, or anywhere you can think of. There's no installation necessary, it plays music, will save you so much space, and it's easy to move around!
Take a look at the product details below and get a better idea of how this treadmill with speakers can change your life!
Save time & space by working out, indoors!
DOCTOR RECOMMENDED!
"Ordering process was super easy, I paid securely with PayPal, and it was shipped within a couple of days."  - Dr. Tara Scott 
Relaxe 2 in 1 Folding Treadmill Product Description
Available colors: this foldable treadmill is available in four colors, including red, silver, blue and white.
Comes with a two-year competitive warranty and express shipping.
The packaging includes a complimentary course with 30 hours of videos for a healthy body and healthy habits.
This treadmill with Bluetooth comes with a remote control you can use to adjust the speed and a safety key to use in cases of emergency, and power surges to protect yourself from accidents.
Relaxe Folding Portable Treadmill Key Features

Two speed ranges and modes:

 

you can use this folding electric treadmill as a running treadmill or as a desk treadmill for walking placed under your desk. Therefore, there are two separate modes: running mode and walking mode. When the armrests are raised, you can use the treadmill for running, which also delivers a faster speed. The maximum running speed is up to 12 km/h. When the riser is folded, you can use it under a desk or a table. In this case, the speed of the running belt is between 1 and 4 km/h, and you can safely walk on the treadmill while working or studying. There's also a slight auto incline on the folding electric treadmill since it's a little lifted in the front.
LED display:

 

The LED display is multifunctional and equipped with various features. It will tell you all the data you need to track your success and advancements. The screen is perfect for checking the running or walking speed, time, calories, etc. It's located in the front middle part of the bottom, making it very simple for everyone who wants to follow their fitness experience. Although it's not a dual display or touch screen model, the screen size is decent, and you won't have any trouble tracking your success. It also doesn't come with a separate heart rate monitor, but it keeps track of your performance, so you can easily adjust the workout intensity according to the progress and create interactive workouts, add core training, etc. Since this isn't a touchscreen display, there is no one-touch speed option, but there is a remote you can use to adjust the running or walking speed.
Space saver:

 

you can create a comfortable space environment in the warmth of your home since a foldable and portable product like this one is so convenient. If you're looking for essential and multipurpose fitness equipment and the best folding treadmill on the market, then this one is it. You can easily assemble this compact treadmill when you want to run, or fold the armrests and store it around the house when you don't need it. If you're looking for a running and walking treadmill, folding should be one of your top priorities because it will make your life so much easier and save you plenty of space.
Built-in phone holder:

 

thanks to this device holder, you can listen to your favorite music, use your favorite fitness app, watch movies, videos, etc. The desk electric treadmill is ideal for busy people who want to stay fit while on call or in a meeting during working hours.
Bluetooth speakers:

 

the Bluetooth treadmill features a high-performance speaker you can use with your phone or other devices that support Bluetooth to listen to music, talk with friends, watch movies, work, etc. Built-in speakers are exceptionally useful, especially if you love walking while working or being active while studying.
Surprisingly quiet motor:

 

the 2-in-1 treadmill comes with a 2..25 hp silent motor that you won't even hear when working out. Thanks to the 7-layer shock-absorption deck, the treadmill is safe for your knees and will prevent pain and injuries. In addition, the surface is non-slip, so you can feel safe running at home.
Transportation wheels:

 

this portable treadmill comes with built-in transport wheels, making it perfect for any home. You can move the Bluetooth treadmill around your house or office with ease without any help or having to disassemble it.
 Easy To Put Away! 👇
Relaxe Folding Treadmill With Bluetooth Specifications
Material: ABS

Overall Dimension: 49"x 27"x 42"

Folding Dimension: 52"x 27"x 5"

Running Area Size: 40" x16"

Net Weight of Treadmill: 74 LBS

Weight Capacity: 265 lbs

Speed: 1-12km/h

Control Method: Controller

Package Includes: 1x 2 in 1 Treadmill, 1x Remote Control, 1x Phone Holder, 1x Safety Key, 1x Power Cord
Why Buy From Us?
2-5 Day Express® Shipping
2 Year Warranty 

24/7 Customer Service (hello@relaxe.co)

Premium Quality Guaranteed

Not available on Amazon or in stores!

We guarantee that you will absolutely love it
FREE GIFT ($60 Value)
Get 30 Free Home Workout Videos
As an exclusive gift, you will also be receiving a complimentary course with 30 home-workout videos. Use the phone-holder to follow along on your treadmill workout!
BUY WITH CONFIDENCE
We understand that online shopping can be daunting, and that's fair. We put it upon ourselves to create a special customer experience, from order to shipment to delivery. We offer 24 hour customer support to answer any and all questions. If you have any concerns about shipping or store policy, please visit our Store Policy page to get more details.
We look forward to welcoming you to the Relaxe Family.
NOTE: Unfortunately, we cannot ship to Hawaii, Alaska, or P.O Boxes. Thank you for your understanding!