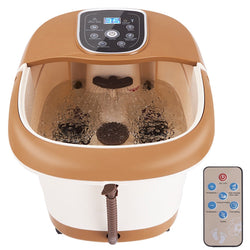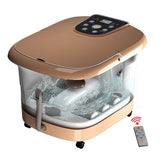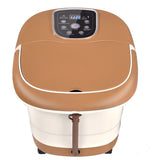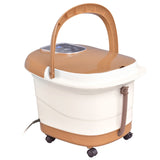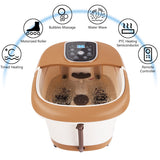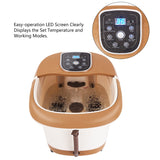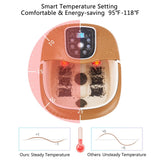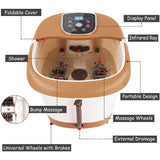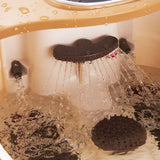 Shiatsu Foot Spa Massager
Table of Contents
Note: We are running extremely low on stock, due to increase in demand and our low price points. We apologize in advance for the inconvenience. Shipping, like always, is free and 2-5 days.
Are you on the hunt for the best foot spa massager? If your answer is yes, and you want a proven product with a five-star rating, you shouldn't miss this one. The all-in-one foot spa bath massager is the machine of your dreams. This device offers a soothing massage, adjustable temperature, multiple modes, and a lightweight design, so you can take it anywhere with you. It merges the latest technology with all the benefits of a shiatsu massage, so keep reading for all the product details. 
Heated Foot Spa Massager Product Description
Comes in a light brown color.
Made of durable plastic that won't get damaged even if you use it frequently. The material is simple to clean, and you can maintain it with ease after every use. 
This is a corded electric product, which means you have to plug it into a power source to use all the different massage settings. 
The water foot massager also includes a handle you can use to lift it and move it around. The tub is equipped with wheels, so you can roll it around the room. When you don't want it to move, just pull the brakes on the wheels, and it will stay put. 
Suitable for everyone: you can use this foot spa bath massager no matter your foot size. 
Foot Spa Bath Massager Key Features
6 massage rollers: the shiatsu foot spa massager is equipped with 6 motorized massage rollers that will deliver a relaxing, healing roller massage in the warmth of your home. Don't mistake it for a leg massager because the massaging heads are only located at the bottom of the device and will massage your feet. 
Temperature control: do you prefer cold water, warm water, or hot water? Thanks to digital temperature control, you can easily adjust the temperature and prepare the perfect bath for yourself. The water gets warm in a matter of minutes, so you won't even have to wait for the experience. Just fill it to the assigned water level, and it will be ready in no time. One of the best features of this foot massager is that it's equipped with a smart temperature setting that delivers constant temperature, unlike most other massagers. 
Includes a heating function: aside from helping with cold feet, the heating element offers various health benefits. It stimulates blood flow, so if you've been suffering from feet pain, poor circulation, and tiredness, all of this will go away thanks to the foot spa massager. 
Bubbles massage and water waves: the two other settings you'll see on the remote and built-in screen are bubbles and water waves. Imagine dipping your toes in a foot massager machine and feeling like you're enjoying the warm waves of the ocean. The bubbles massage is so lovely and relaxing that you'll feel like going to sleep right away. 
Ideal for relaxing foot baths: you don't have to suffer from tired feet or pain to enjoy this foot soaker. It's the perfect device for people who just want to enjoy life and find satisfaction in deep massages. All you have to do is add your favorite bath salts and enjoy the foot spa experiences at home. The heat combined with the massage heads delivers such a relaxing feeling that you'll want to have spa time multiple times per week. 
At-home heated foot spa: dry feet and heels are the worst! With this home spa, you can soak your feet, wait for a few minutes and perform your treatment. All you need is a pumice stone or a pedicure metal surface tool to have the softest feet ever. Another huge pro is that one spa session in this massager will take care of unpleasant foot odor with ease. 
LED screen and remote control: although this foot bath massager doesn't include toe-touch control, it has a built-in LED screen with many options and remote control. So whenever you feel like you're missing a toe-touch button, just grab the remote next to you because it's even easier to use. In addition, you'll see a power button, temperature, auto-massage, bubble, time, surfing, and heating buttons on the LED display. 
Foldable cover and a handle for easy transport: there's no need to pay for expensive foot spas anymore because you can take this one with you wherever you want. It's lightweight and straightforward to transport. The wheels also help you move it around without having to lift it. 
Shiatsu Foot Spa Massager Specifications
Color: Light Brown
Corded Electric
Package includes: remote control, foot spa massager
Foot Spa Massager With Heat Benefits
Can this electric foot spa massager help your health condition, or is it just a spa tool that will help you relax? Since it comes with a massaging feature and heat function, there are a few health benefits that you should know about. 
Foot massage can be very relaxing: one of the benefits most people underestimate is how relaxed and happy massage can make you feel. The soothing motions will transport you to another world and take away your problems and worries.
It can relax tired feet, sore muscles, and tackle pain: a foot massager machine is the only thing you need if you often have to deal with foot pain, soreness, and tiredness. The massaging motions will boost the blood flow in the area and promote faster healing. 
Will help with poor blood circulation: massage is a free and simple way to deal with poor circulation. With this foot bath spa, your feet will not only look fabulous, but they'll also never be cold. The massaging function will stimulate blood flow and help you deal with bad circulation.
Improved sleep: one of the significant benefits you can score from frequent massages is better sleep. Sleeping is the fountain of youth, and massages make your body produce melatonin. This is a hormone that stimulates sleep and lets your body know that it's time to go to bed. Massages also promote the release of serotonin, a chemical that is important for happiness, well-being, and good mood. 
Why Buy From Us?
2-5 Day Express® Shipping*
2 Year Warranty 

24/7 Customer Service (hello@relaxe.co)

Premium Quality Guaranteed

Not available on Amazon or in stores!

We guarantee that you will absolutely love it!
BUY WITH CONFIDENCE
We understand that online shopping can be daunting, and that's fair. We put it upon ourselves to create a special customer experience, from order to shipment to delivery. We offer 24 hour customer support to answer any and all questions. If you have any concerns about shipping or store policy, please visit our Store Policy page to get more details.
We look forward to welcoming you to the Relaxe Family.
NOTE: Unfortunately, we cannot ship to Hawaii, Alaska, or P.O Boxes. Thank you for your understanding!