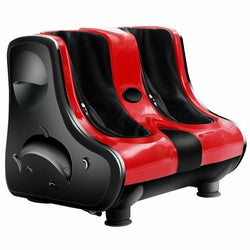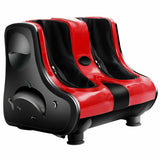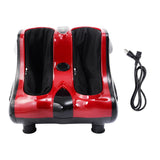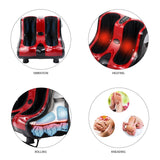 Shiatsu Leg Massager With Heating
Give your legs the gift of relief with the Shiatsu Leg Massager. Receive a soothing deep tissue massage with techniques that target key pressure points and help reduce stress on the legs. 
The kneading and rolling shiatsu motion perfectly mimics the practiced hands of a professional. Boasting a compact, portable design made for home comfort or relaxation on-the-go.
Best Foot and Leg Massager to Improve Blood Circulation
The Relaxe™ Shiatsu Leg Massager is commonly used by our customers totreat a variety of leg related issues including arthritis, joint pain, and neuropathy.
Beyond that, leg massages have been known to improve blood circulation, sleep, stress, as well as muscle tension in the body. The adjustable settings that come with the product allow you to select the most optimal massage to target your desired areas.
Have you been struggling with tired feet and pains in your leg muscles that make your life much harder? It's time you met the shiatsu leg and foot massager that is an at-home substitute for massage therapists. The device combines deep kneading motions, heat, and vibration to reduce stress, help with pain and provide that soothing, relaxing feeling.
Find out all about the product details below and why you should purchase this massager with a five-star rating for your home.
Shiatsu Leg Massager Product Description
Comes in a fashionable color combination of black and red.
Constructed with a durable material that won't break or damage. The material that covers the foot compartment is also very durable, easy to clean and maintain. You'll see that it's attached with zippers to the foot massager machine, which means that you can remove it and wash it whenever you want to.
The actual product packaging includes the foot massager and the cord, and there's no need for assembly. The massager comes ready to use.
It's a corded electric leg massager that you need to plug into an outlet first. Unlike a manual roller, this device will do all the job instead of you. It will be like having a licensed massage therapist at home, just in time for your nighttime routine.
Shiatsu Leg And Foot Massager Key Features
Adjustable speeds: you can adjust the intensity level and decide how fast you want the deep tissue massage to be. The massage rollers are located in the bottom and top parts of the massager and will get to your feet and your legs up to your knees. These rollers massage the bottom of your feet and partially cover the upper side. Although your feet won't be covered entirely in rollers, you'll still feel like your sore feet are feeling much better after a few minutes in the massager. On the other hand, the calf rollers are located in the back and sides so that they won't reach the front parts of your lower legs, but they will target your calf muscles and sides of the shank. However, you'll feel the relaxing sensation all over the lower parts of your legs, especially if you turn on the vibration mode. In addition, there are several key pressure points, meaning that the rolling massage won't focus on a single area of your legs. Most traditional calf massagers are built this way and are suitable for all leg sizes.
4 massage modes: you can choose a massage mode to your liking or needs and enjoy the highly-customizable experience. The foot calf massager also has 3 massage styles to soothe your muscle pain and restore tired muscles. Since you can't adjust the pressure levels, you can slightly move your calves to the front and lower the massage speed. This is ideal for people who aren't used to firm pressure, but the good thing is that you'll easily get used to deep kneading, and you'll want more.
Heat function: a heated foot has better blood circulation, which also means faster healing and getting rid of foot pain. The product offers three levels of intensity as a part of the heat mode. One of the best things about this vibrating foot massager is that the heating function can work without the vibration, the vibration can work without heat, or you can turn both of these functions to work together. The combination of kneading, vibratory actions, and heat are the ultimate massage therapy.
It's suitable for people with different leg conditions, including restless leg syndrome, arthritis, plantar fasciitis, neuropathy, joint pain, and improves their quality of life.
Adjusts to foot size: there's no need to worry if you have larger feet, the compartment is adjustable, and it will fit them. Also, the space meant for the calves is big enough for everyone, therefore it's a device that works for all heights, weights, genders.
Touch panel: the touch panel is installed on the foot massager with heat, and there is no need for a remote to adjust the settings. The panel has four buttons you can use to find a mode that is the perfect solution for your sore muscles, tension, or pain.
It's compact and portable: the massager is compact, lightweight, and simple to move around. You can take it to any room you want and even bring it with you on trips in your car. After a few massage sessions, you'll be hooked, and you won't want to leave without it.
Foot Leg Massager Specifics
Color: black and red
Touch Panel Operated
Adjustable Speeds 
3 Styles
4 Massage Modes
3 Levels of Heating
Dimensions: 17.7" (L) x 17.7" (W) x 19.7" (H)
Weight: 15 lbs.
Power: 40W, 110V AC
No Assembly Required
Benefits Of The Leg And Foot Massager With Heat
Can a foot and leg massager improve your health condition? Let's talk about the benefits you can reap while using this foot massage device:
Eases pain and will relieve sore feet. Foot pain and tension will become less noticeable or completely gone after a few sessions with this massager. This is the best foot and leg massager for circulation because it increases the flow, which significantly speeds up the recovery.
Increases muscle motion: regular massage therapies can increase the motions of your feet, especially if you're experiencing soreness, pain, or tiredness.
It's a highly relaxing experience: living a life without stress means living a longer life. When you spend a few hours per week getting a relaxing massage, you'll forget about so many troubles and think positive thoughts.
If you're struggling with poor circulation, a nice massage will boost your blood flow. In addition, heat therapy is very successful in easing pain, muscle tension, and promotes faster recovery. If you're looking for the best foot and leg massage, shiatsu should be high up on your list.
Can help with headaches and migraines: like other similar compression devices, a leg and foot massager can reduce headaches and eventually help you get rid of them.
Reduces the chance of injuries: this benefit will be especially important for athletes and physically active people. Regular massage sessions will prepare your muscles for activity and prevent common injuries.
Why Buy From Us?
2-5 Day Express® Shipping*
2 Year Warranty 

24/7 Customer Service (hello@relaxe.co)

Premium Quality Guaranteed

Not available on Amazon or in stores!

We guarantee that you will absolutely love it!
BUY WITH CONFIDENCE
We understand that online shopping can be daunting, and that's fair. We put it upon ourselves to create a special customer experience, from order to shipment to delivery. We offer 24 hour customer support to answer any and all questions. If you have any concerns about shipping or store policy, please visit our Store Policy page to get more details.
We look forward to welcoming you to the Relaxe Family.
NOTE: Unfortunately, we cannot ship to Hawaii, Alaska, or P.O Boxes. Thank you for your understanding!