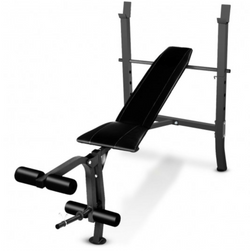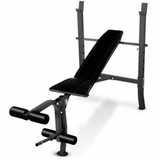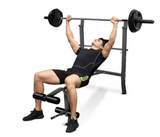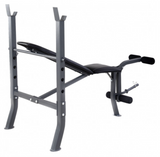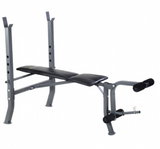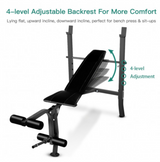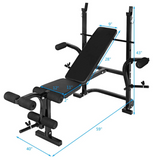 Note: We are running extremely low on stock, due to increase in demand and our low price points. We apologize in advance if we are out of stock on some of our products. 
Bench Press Set Description
This bench is designed for weight lifters who would like to perform bench press exercises at home. Save time and money by cancelling your gym membership and investing in this kit! We also offer free, expedited 2-5 day shipping on all of our products.
【440 lbs Weight Capacity】It is made of heavy duty steel. The max loading weight capacity is about 440 lbs. It provides stability and safety for simple exercise.

【Adjustable Height】This weight bench offers 4 levels height (18''-31.5'') to ensure you get the right workout.

【Padding Design】There is an ample padding on the bench, which can support your body and eliminate back strain.

【Easy to Assemble】Clear and brief instruction make it easy to assemble. It is not only suitable for gym but also can be used at home and office.

【Effective Trainer】Strong 2 in 1 Rack & Bench set for barbell and dumbbell, this multifunctional machine is ideal for you to more easily emphasize lower abdominal muscles and build the abs you want in less time. It is a good trainer for you to exercise effectively within a short time.
The bar that is available in our package is olympic sized (7 feet), and weighs 45 pounds.
【Rugged & Durable Structure】Our bar is made of high-quality A3 steel with cold forging and quenching technology, and the surface is chrome-plated. The rugged construction allows it to withstand a weight of 700 lbs. And it will not rust and deform within 1 year after normal use.

【Knurled Handles Design】This Olympic weight bar adopts the knurled handles for improving grip. These knurls not only increase friction, but also have anti-slip properties. Besides, they can increase the safety of your exercises and ensure a comfortable, consistent feel during sets.

【Sufficient Length & Weight】This bar is very heavy, about 45 lbs and is 86'' long. Sufficient length allows you to do more movements, and a certain weight can help you build muscle. This bar is really the great option for you to do the strength training.

【Copper Sleeve & Bearing】The use of 2PCS copper sleeves and 2PCS bearings increases the lubrication of the sleeve and reduces stress on your wrists and elbows to ensure your safety. They can resolve inertia to provide perfect spin and make the snatch more smooth.

【Wide Range of Workouts】The superior design of our Olympic bar allows for a wide variety of workouts such as bench presses, bicep curling, piggybacking, overhead pressure or lunge. You can use it at home or take it to the gym for exercise to exercise muscles and relieve stress.
The weights that are available in our package are 2x (10 kg / 17 pounds), and 2x (10kg / 22 pounds).